%@LANGUAGE="JAVASCRIPT" CODEPAGE="1252"%>
COM 212 Interpersonal Communication
Dr. Marcia D. Dixson
NF 230B
481-6558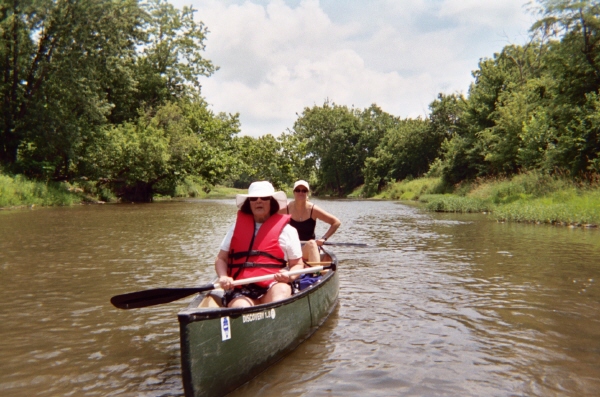 Navigating the rough waters of interpersonal communication!
(My mom and I on the river)
Spring, 2011
Office hours: MW 3:00 - 5:00 pm and by appt.

Learning Objectives:
*Students will be able to explain communication concepts and theories relevant to your major (interpersonal communication) (assessed by quizzes, case studies, and webpages);
*Be able to explain, evaluate and apply the processes involved in productive conflict in the contexts (interpersonal) relevant to the major (assessed by case studies, webpages, and final);
*Demonstrate awareness of diverse perspectives (assessed by case studies);
*Be a competent reader, speaker, writer, and listener (reader and writer assessed by midterm and final);
*Evaluate interpersonal interactions (assessed by case studies, midterm and final);
*Communicate competently (effectively, appropriately, ethically) interpersonally and/or in groups (assessed by case study interactions and midterm);
Students will be able to apply interpersonal concepts to improve their understanding and practice of interpersonal communication (assessed webpage additions)
Student will become more skilled interpersonal communicators (assessed by online discussions and webpage additions)
Students will improve their computer mediated communication skills (assessed by online discussions and webpage additions)
*Portfolio Requirement for Communication Majors: If you major in either or both of Interpersonal and Organizational Communication or Media and Public Communication via the 2009-2010 bulletin or a later bulletin, you will be required to create a portfolio as part of the sequence of required one-credit classes: COM 120, COM 308, and COM 480. This class offers many opportunities to fulfill these objectives. Be sure to save your work (discussion forums, webpages, etc.) for your portfolio!
Textbook: McCornack, S. (2010). Reflect and Relate. Bedford/St. Martin's. ISBN-10: 0-312-48934-X ISBN-13: 978-0-312-48934-2
Teaching Philosophy:
My job here is to facilitate your learning: to provide you with a variety of opportunities to learn the content of this course. This means I do my best to structure a course that makes sense to you and gives you opportunities to learn, apply, analyze and evaluate the concepts. I do not tell you what or how to think, just to stimulate and stretch your abilities to do that thinking. To that end, I am generally willing to work with any student who is willing to work as well. But, I expect you to work. If you do your part; i.e., read and consider the material, take quizzes and participate in discussion forums, and complete assignments thoroughly and on time, I absolutely enjoy doing my part. If you have questions or concerns about the class, assignments or content, you should consult with me about those either in person or via email. If you have technical problems, you should contact me or the help desk (x16030) immediately. My services as a facilitator and guide (and occasional technical consultant) come with the tuition you paid for the course, do not be shy about using them!
Class policies:
Late work: While I do accept late work, each day (including weekends) late is subject to up to 20% reduction in points (which means after five days, you have pretty much earned a 0). If you are having a technical problem, have questions about the assignment, or are having other issues which make it difficult for you to complete the assignment on time, always let me know before the assignment is due. Plan for technological obstacles, i.e, if your computer or internet at home goes down, what can you do (get to campus, go to a library etc.). As is stated elsewhere, waiting until the last minute, almost assures you will have technical problems!
My availability: I check my email multiple times a day during the week. I check it once or twice on Saturday. I do not do email on Sunday as that is reserved for family, football and, having some down time. So, you can expect me to get back to you fairly quickly, but not necessarily within a half hour or so. Remember, you can also call me in the office during office hours or chat online during that time (see chat room, Dixson's Office).
Civility expectations: While you are not required to agree with everyone's opinions, you are required to respect them in class (email, discussion forums etc.). However, because you have an opinion, does not mean it is a valid opinion! Back up your statements with facts, direct experiences, concepts from the text, etc. Use appropriate netiquette: no flaming, respect each other, etc.
Academic Misconduct : Academic Misconduct, including plagiarism (using other people's ideas/words and not giving them credit thus implying the work is your own original work), is taken very seriously at any learning institution. It is taken very seriously in this class. Please be aware of what academic misconduct is and the potential consequences (including dismissal from the university) of such behavior.
Helpful places on campus:

Services for Students with a Disability: If you have a disability or acquire one and want to find out about what special services and accommodations are available, you may contact Services for Students with Disabilities in WALB 113.
Writing Center: Can help you with general writing problems or specific assignments (including APA research papers) in KT G19.
CASA (Center for Academic Support and Advancement): Offers many kinds of services to students including tutoring in KT G23.
Helmke Library offers research librarians who can help you find what you need.
Structure of the course (click on links for information):
Seven units - each unit requires: 1) quiz primarily over terms/concepts; 2) addition to interpersonal analysis webpage; 3) participation in a discussion forums over a text case study and webpage additions. (60% of course grade)
Midterm (20% of course grade)
Final (20% of course grade)
90 - 93% A-

94 - 100% A

80 - 82% B-

83 - 86% B

87 - 89% B+

70 - 72% C-

73 - 76% C

77 - 79% C+

60 - 62% D-

63 - 66%; D

67 - 69% D+

0 - 59% F
Tentative Agenda
January 10 - 23 Unit 1: Introduction to the course and each other: Chapter 1
Jan 24 - Feb 6 Unit 2: Perception of self and others: Chapters 2 and 3
Feb 7 - 20 Unit 3: Developing interpersonal skills, Part 1: Chapters 5 and 8
Feb 21 - Mar 6 Unit 4: Developing interpersonal skills, Part 2: Chapters 6 and 7
Mar 7 - 11 Spring Break
March 17 Midterm
Mar 21 - Apr 3 Unit 5: Competent communication of emotion and during conflict: Chapters 4 and 9
Apr 4 - 17 Unit 6: Close Relationships: Chapters 10 and 11
Apr 18 - May 1 Unit 7: Work Relationships: Chapter 12
May 5 Final Due